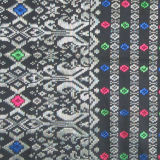 Last week we took a brief look at the introduction of songket to Malaysia and Yayasan Tuanku Nur Zahirah, an organization working to preserve this woven art with training and support for the weavers, along with with modernizing motifs and applications. 
This week we'll look at the family-owned business Bibah Songket. Habibah Zikri is the award winning lead designer who got her start with Kraftangan and went on to create her own thriving business. Habibah's husband also worked with Kraftangan (Malaysia's government organization overseeing craft development and promotion) for many years. Their daughter Sabrina is now the business manager based in Kuala Lumpur.  
I had the pleasure of meeting with the family in their Kuala Lumpur showroom and talking with them about their work and their efforts to find a wider audience for their stunning songket products.  (Protective of her unique designs, the image shown is from my collection –  it is not a Bibah songket).  At Bibah Songket they pay their weavers a monthly salary, not per piece nor commission on goods sold.  You can learn much more about the history, design structure, and motifs of Malaysian songket at the Bibah Songket web site.