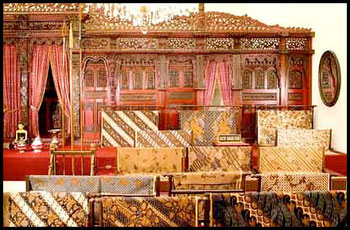 All the excitement surrounding the Interwoven Global exhibit at the Metropolitan Museum in NYC reminded me of another great (permanent) exhibit -  where the textiles are an expression of the cultural influences in just one country over time.
I'm thinking about the terrific Danar Hadi Antique Batik Museum in Solo, Indonesia. The museum is part of a complex that includes a showroom and a workshop.  In 11 rooms the museum showcases roughly 600 pieces of batik selected from the family's 10,000+ piece collection.  In their own words: 
This combines various types of batiks collected by Mr. H. Santosa since 1967, and also his ancestral collections, including that of his great grandfather H. Bakri (first generation); collection R.H.S. Wongsodinomo (second generation), his grandfather; and the collection of H. Hadiprijana, the parent of Ibu Hj. D. Santosa.
For a short description of the Dutch, Chinese, Indonesian, Palace and Danar Hadi batiks, click on each of the images on this page:
http://www.houseofdanarhadi.com/en/batikdanarhadi.php

For those interested in the batik making process:
http://www.houseofdanarhadi.com/workshop.php

For armchair travelers, enjoy this excellent description of the experience:
http://www.travelsinparadise.com/travelarticle/batik-museum.html

Museum admission includes a guide (in my case in English).  He was great:  An excellent communicator and very knowledgeable about the history, the collection and the process.  So if you can swing it -- it's really worth a trip to the Danar Hadi complex.