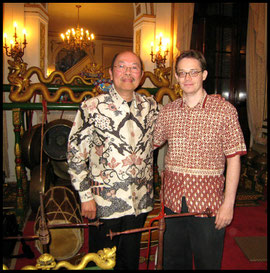 Last weekend Gamelan Kusuma Laras, Directed by I.M. Harjito, played two concerts at the Indonesian Consulate in NYC.  Founded in 1983, the concerts marked the group's 30th anniversary. 
If you haven't yet heard traditional Javanese gamelan, it is a wonderful experience.  Most of the instruments are made from cast bronze - beautiful to hear as well as to see. They look like variations of xylophone or gongs. The music is is played in cycles with interwoven rhythms, with instruments (in addition to the metal ones, there is one bowed and one flute-like, plus chanting and clapping.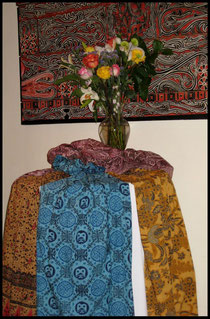 The consulate has a full orchestra of instruments which the players used for this concert.  The event was held in rooms decorated with art and artifacts from Indonesia.  And there were delicious Indonesian snacks laid out for the intermission!  For those of us who are interested in batik, it was a great opportunity to see the traditional fabric being worn by many of the musicians and the consular staff.  And the tables were adorned with cloths as well.  The event was truly a feast for all the senses.
The Director General and his wife were extremely gracious in hosting the event.  In addition the consulate is arranging several upcoming events for 2014 -- one  to promote batik! As soon as we learn more, we will post the information here on the blog.  To learn more about Gamelan Kusuma Laras, click here.