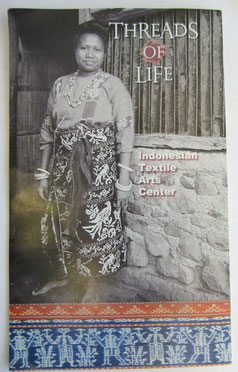 Already March and the snow just keeps coming!  It's a great day to warm up with a highlight from our visit to Indonesia in January/ February.  Even when it was blisteringly hot there, we were so happy to be missing a little bit of this super long northeast winter.
After our work in Java was complete, this was to be my first visit to Bali. So I set my sights on seeing the ikat weaving in Gianyar and visiting the special Threads of Life Textile Arts Center and Gallery in Ubud.
Threads of Life Textile Arts Center and Gallery is a reasonably pleasant walk down Jalan Kajeng off the very busy main street Jalan Raya Ubud in the center of town. In their own words: "Threads of Life is a fair trade business that uses culture and conservation to alleviate poverty in rural Indonesia. The heirloom-quality textiles and baskets we commission are made with local materials and natural dyes. With the proceeds from the Threads of Life, we help weavers to form independent cooperatives and to manage their resources sustainably."
The organization was established in 1998 and they now work with over one thousand weavers in eighty communities.  The gallery in Ubud is a nicely designed, modestly sized space with textiles, and smaller items including pillows and scarves upstairs.  Information on materials, including natural plant dyes and processes, and classes and special exhibits is also interspersed throughout.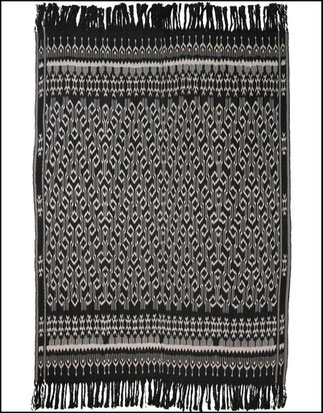 On the well-lit lower level there are more of the bigger woven pieces with photos and information about the weavers and their cultures aside each piece.  Everything is well presented.  The atmosphere is so relaxed that it's easy to forget how rare it is to see such a unique selection of (mostly) woven textiles from across the islands.  (There were also a few modern batik pieces from an artist in Solo which I enjoyed).  The staff is happy to tell more about the organization or any of the individual pieces.
Many of the textiles are likely to be hung as art for display.  To that end, we were lucky to participate in the lively discussion with a friendly Australian shopper was choosing between two beautiful black and white weavings for the wall above her bed.  They were similar to the piece pictured above from ThreadsofLife.com.  And even more stunning in person!
---
Outdoors:  Once you are back at Jalan Raya Ubud with Threads of Life behind you, consider taking a break from the bustling shopping in the center of town.  Turn right and walk about 15 minutes until you find the Campuhan Ridge Trail – the entrance is just before the Clinic.  If you reach the bridge you have gone too far. The ridge hike is glorious! And a well deserved respite from the Ubud shopping crowds. 

---