Last fall, there was a lively batik expo in central Java. A celebration of the textile's heritage, it's current state, and its future opportunities. Booths brimmed with cloth in endless variations. Intricate tulis batiks (hand drawn) appeared next to displays of bold, modern block prints. Vibrantly colored textiles were stacked near cloths of nuanced hues made with natural dyes. And everywhere there were patterns—some contemporary, some traditional, often eye-popping and original. 

Makers, with their family and friends showed up -- from the Jogjakarta region to the northern coast. Elegant fashion shows drew crowds—and no wonder! It was a great affair.  Artisans witnessed their work exhibited alongside private collections of antique textiles from Madura, Cirebon, and Pekalongan. The event was a vibrant, positive show of support for the region's batik industry.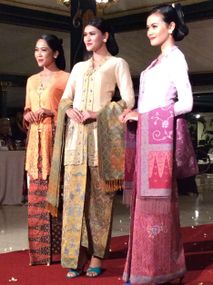 Walking from display to display, I wondered: Which pieces would these batik-artists consider the most special? Though I'm not a forward person, the culture is a warm and welcoming one, so I chose a few of my favorite displays and asked the question. And each person's thoughtful selection generally highlighted innovation and skill within the craft. Their choices deepened my appreciation for the integrity of the line-work, the complexity of motifs, and the expressive combinations of patterns and techniques.
In batik, a block print motif often looks simple. But, this is deceptive. Artfully done, these patterns are born of a time-consuming, multi-step process that requires exquisite attention to detail. At Textiil, our goods – pillows and table linens – honor this. The cloth is made in small batches as we work to find new motifs and colors that will maintain the heritage process and creative integrity, but also resonate in the western marketplace. And we do produce multiples in order to bring to market a selections of goods more affordable than the incredibly detailed one-of-a-kind tulis batiks. What results are crisp, fresh designs with gentle variance.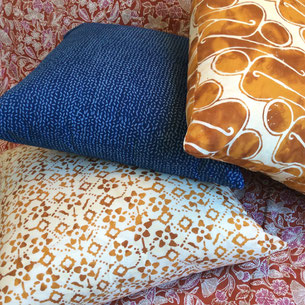 And it's this, the variance, that makes the batiks so compelling. The tropical rains don't always cooperate with production deadlines, and neither do family celebrations, cultural days off, or the sudden need for a new, hand-hewn tool. Always a challenge, but also a reminder: Look for the small inconsistencies in the cloth. In them, glimpse the real-life circumstances in which our batiks are made. We trust that fans of our products see this and are intrigued by this evidence of the human hand. Because the variance, that uncertainty found in the close look, is also what makes the batiks so rich with possibility.